Maischna meets Aline-Gislaine Nimbona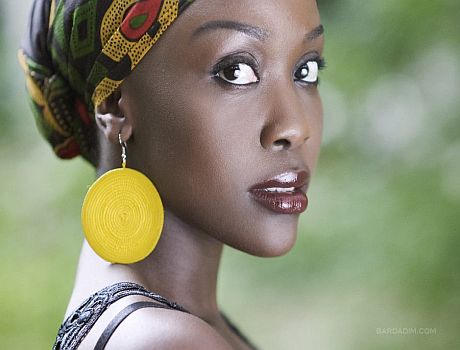 "No one said it is going to be easy but i am on my feet again"
A clear statement from Aline-Gislaine nimbona, born in Rwanda and raised in Senegal. After studying and working in Germany for 12 years, Aline N. decided to move back home and follow her passion to set up her own business as Event Manager. In 2011 she laid the foundation of her own company which she named Ally Nims International Event Management in Bonn, Germany. Maischna Magazine has been close to Aline for many years who decided to share her story with our readers.
She is a holder of two bachelor degrees from the University of Aachen in:  "Linguistics & Communication Studies" and "Professional Education & Economic Educational Sciences". She got the chance to do her masters in media science and took up several internships with organisations like the UNCCD, BICC, 4C coffee Association in Bonn just to name a few. Besides her brilliant educational background, Aline gained about 7 years of experience in the organisation of the well-known festival "Colours of Africa 1&2 in Germany, which she managed together with her student association "Muntu Afrika". Even though Aline got a well-paid job as manager of the international students' office at Rheinbach University in Sankt Augustin, it was not as fulfilling as the managing of live events. She decided to follow her heart and put up her own business. She got her company registered and certified according to German regulations for small and medium size enterprises as well as joined the chamber of commerce with she recommends as an ad on for any freelancer or business owner. The fact that she had no German passport, no personal capital and was young and black made the whole process even more challenging and difficult as expected. The urge and desire to do her own thing kept her going. "I named my company ALLY NIMS INTERNATIONAL EVENT MANAGEMENT as a tribute to one of my Senegalese mothers who raised me but is sadly gone now" she tells us. "It's from a private joke we used to share about my name, Aline Nimbona".   Putting the finances and staff together on low budget was not at all easy during the first three years. "That is why I had to work part-time to pay the bill", she adds. With a few years of being on my own feet, I decided it was time to pay back mama Africa. I had this idea of going back home. I want to expand my business and grow and I know Africa has more opportunities for businesses. That is how I moved back to my new home of Senegal, she explains further.
In Senegal I have to make sure I keep up the standards as well. Making logistical, financial and organisational arrangements to set up events requires multitasking and high managerial skills which you cannot afford to do all by yourself. I had to expand my staff and face other challenges just like in Germany. Since I was not born in Senegal, I have to deal with paper issues here as well. I had to put all the necessary documents together before I could start functioning just as I done in Bonn, Germany. From registering the company to clarifying the visa issues, everything was time demanding and at times discouraging. Without any personal capital setting up a business anywhere will remain a challenge. I personally got to meet some old Senegalese friends in Dakar who believed in my vision and mission and decided to work with me. There are so many business ideas I have for the future and as an ambitious and hard working person (get rich or die trying: my business motto) I know I will get there soon. This is my message to African people, young and old, rich or poor: Believe in yourselves, fight harder and you will achieve your African dream.I believe in Africa and its unique potential, its humanity and spirituality. All we need is freedom and unity and Mama Africa will smile again.
Comments
comments