The Gift That Keeps On Giving: Meet Onita Boone The Pearl of Cologne City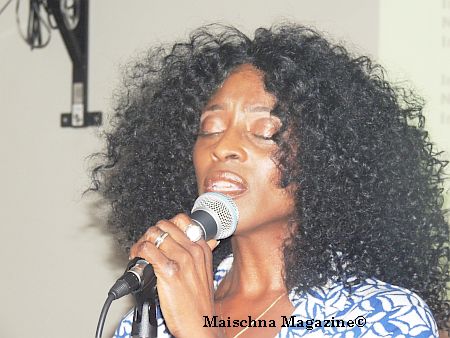 Last Monday I had the opportunity to meet a pearl on the music scene, Onita Boone, for the second time after quite a while. Onita Boone is a seasoned stage performer, who is widely known in America, especially the New York Metropolitan area where she has featured in numerous Broadway productions. Onita who is signed with Universal moved to Germany in 1997 and has amassed a consistent and extensive following.
Maischna first had the pleasure of getting to know the extremely talented yet down to earth and charming Onita at the very first Africa Fashion Day Berlin (AFDB) event in 2012. The reunion last Monday was no chance encounter as I had gone to check out the "VIP Lounge" in Cologne city (VIP-Lounge Köln), one of Onita's gifts to the cultural scene in Germany. On the last Monday of every month with the exception of December – which happens on the 15 instead of the last Monday, different artists join Onita in a musical get-together, where everyone is invited to come and  hear "Voices in Perfection" which means NOT everything you hear will be perfect BUT that where it is coming from will always be a PERFECT place- the heart.
On the VIP Lounge Facebook page, followers are invited to propose a theme for the evening's performances. The theme of last Monday's (29.10.2014) show was "songs that changed your life". We all do have that special song that changed our lives don't we? Even though the demand from the public was greater than she could deliver, Onita succeeded in captivating her audience for every song she was interpreted. It did not matter whether she was doing her interpretation of Michael Jackson's "Human Nature" or singing Leonard Cohen's "Halleluiah". Onita thrilled her audience with her great vocal and stage performance each time. We were all mesmerised by her sense of humour and her charm that kept us smiling most of the evening. Besides Onita's performances we were lucky to have guest singers Mr. Steven Spradley of New Jersey USA, an accomplished Gospel Singer who has successfully toured Europe for more than 8 years and Ms. Natascha Bell, an inspiring singer who participated in The Voice (Germany) and has made herself a real name throughout Europe. We also were lucky to enjoy the sounds of a full band for this VIP session made of Mr. Martin Drazek – MD and Keyboards / Mr. Robbie Schulenburg – on Bass / Mr. Marcel Mader – Drums and Percussion / Mr. Mirko von Stiphaut – Guitar and Ms. Jasmin A. who moderated the show.
If you are ever in the Cologne area and are a music lover, I recommend you to visit the VIP Lounge Cologne: Great location, awesome show, friendly audience with beautiful people of all kinds. I will definitely revisit but this time as ME not Maischna :=)
Every last Monday of the month, with the exception of December – which happens on the 15 instead of the last Monday; 19:30 @Café Noa, Maastrichterstr. 3, 50672 Köln
Visit Our Picture gallery for more pictures
*  Onita Boone has featured in a number of Broadway, and Off Broadway productions, including "Arms too short to Box with God", The Rapture", "Mamma I Want to sing" and "The Blacker the Berry the Sweeter the Juice."
The impressive five-octave singer has shared the stage with a number of artists, including Patti LaBelle, Whitney Houston, Mariah Carey, George Michael, Jennifer Holliday, Stephanie Mills, Teddy Pendergrass, The Clark Sisters, Bill Cosby, Take Six, BeBe and CeCe Winans, Udo Jürgens, NilsLandgren, Faith No More, Jonathan Butler and a multitude of others.
Onita has collaborated with very well-known producers both in America and abroad. She has written songs for a number of firms and artists among them, BMW, DaimlerChrysler (for whom she wrote the theme song for their global concert and introduction of the new Mercedes C class), The United States Air Force, Citroen (for the introduction of their new car, Xsara) and many others. The artists for whom she has written include Newburgh Free Academy Gospel recording alumni choir, Dennis Brown (the late Jamaican star), Gregory Isaccs, Brownstone, Mary J. Blige, En Vogue and a host of others.
Comments
comments