Highlights From Day 1 (29.10.14) AFI-MBFW In Johannesburg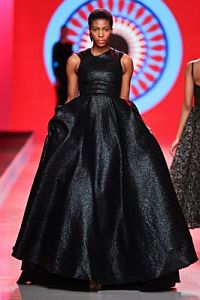 We are so excited to present to you the designers  who showcased yesterday 29.10.2014, day 1 of AFI Mercedes-Benz Fashion Week Africa  in Johannesburg.
Nicholas Coutts:Mr. Coutts is Elle's 2013 Rising Star winner. He displayed a collection definitive of his aesthetic. What gave this particular collection an accent of attitude, was the inclusion of denim which gave it a street edge, while his signature oversized scarves and sophisticated shapes reminds one of the fact thathe is a risen star.
Mille Collines: This design duo brought life to the runway with strong street elements in their hand-painted slogan sweaters.
Taibo Bacar: . This designer's work is feminine sophistication at its finest, with details thought out right to the earrings, not to mention the repetition of prints from clothes right down to the shoes. It's no wonder the crowd gave a standing ovation as Mr Bacar took his bow – just beautiful.
Come back for more news on the AFI-MBFA in Johannesburg this week.
Comments
comments