Being Confident is a Lifestyle…Just Dare!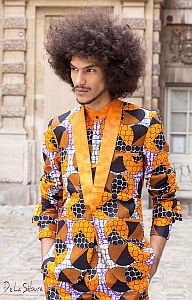 De La Sebure is a new brand that wed perfectly African traditions and European modernism modernity. Although De La Sebure sets African fabrics at the heart of its creations, its exquisite cuts are nonetheless timely and extremely wearable.
The magic word is boldness, to dare: daring colors, textures and cuts. De La Sebure brings a fresh eye to the African male fashion. Its bright colors and slimy fitted cuts are the perfect cocktail for the modern man.
The De La Sebure man is elegant, avant-gardist and could care less about the hearsay.
 De La Sébure is very sensitive to development issues and decided to make a modest contribution to economic and social development of the country that inspires the creations: Burkina Faso. Thus fabrics are chosen and items produced there. De La Sébure is also involved in funding of income-generating activities for the benefit of young women from disadvantaged backgrounds.
About the Disigner Bernie Deb
After a few years in the so conventionnal french Wall Street,  Bernie Deb decided it was about time to pick up the fashion call and make work and passion come as two.
Drilling his inspiration from  Africa and mixing it with his european Journey is what led to the brand De La Sébure.'I believe colors can be bold, wax and bazin dapper. Hope you dare being you, hope you dare colors, hope you dare De La Sébure.' He says and adds 'just dare! Being Confident is a lifestyle.'
Comments
comments