Is the Nigerian cartoon show: Bino and Fino, the African answer to Sesame Street?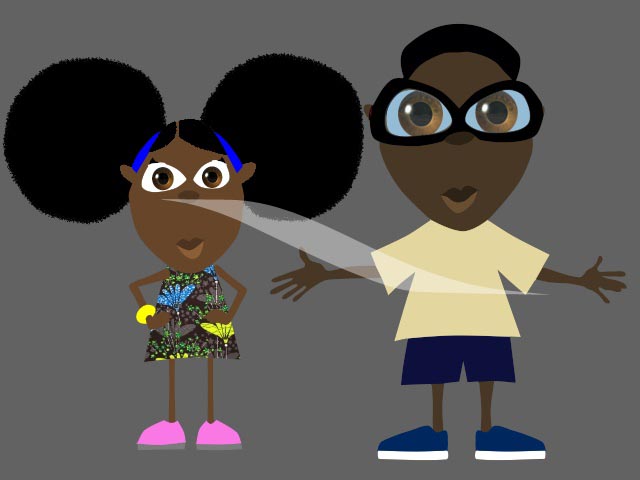 African parents and those of African descent are tired of having few children's cartoons on television that represent their culture to their children. Parents from other parts looking to introduce their children to real African culture via educational cartoons are also finding it difficult to do so. The findings are from over 3 years of discussions and debates on the website and social media networks of the Nigerian cartoon show Bino and Fino.
Creator of cartoon series Bino and Fino Adamu Waziri (AW) explains to Maischna Magazine (MM) in an interview where his creative idea came from: Be inspired!
MM: What inspired Bino and Fino?
AW: Interesting question! The inspiration  to create an African children's cartoon like Bino and Fino is a long-time urge to fill in a gap with contents I saw missing for African Kid's entertainment in the media. My dream became reality with this project.
MM: When came the break-through and how much has been achieved since then?
AW: I would say 2009 was when everything crystallised.. The pilot episode was released in 2010 and the first DVD  produced in 2011 ( now on sale). Since then the cartoon has been shown on TV in the UK, South Africa and Nigeria.
So far we have three episodes out and are now producing a whole new season of 26 episodes for TV broadcast.
MM: So where do we see or find  Bino and Fino?
AW: Bino and Fino can be seen online on Youtube. The cartoon just finished running on television in the U.K, South Africa and Nigeria. The DVD can also be purchased on Amazon.
MM What is your goal with Bino and Fino.
That's simple. I would like the show to have a similar impact to a show like Sesame Street. I want the Bino and Fino brand to be a powerful global advocate for education and tolerance with elements of African culture at its heart. Education and tolerance are crucial for Nigeria and Africa to truly move forward. I want the Bino and Fino brand to help in that endeavour. We all know how powerful media can be. So why not use it positively to help our kids?
More about Bino and Fino and what some viewers say about it.
Nigerian animator and produced by his Nigerian based animation company EVCL, Bino and Fino is an African educational cartoon about a brother and sister who live in a modern day city in sub- Saharan Africa. In each episode Bino and Fino, with the help of their friend Zeena the Magic Butterfly and their family, discover and learn things about the world. The show is for children mainly between the ages of 3 and 6. The series shows aspects of African history, culture and languages to children. According to Bino and Fino creator, Adamu Waziri, there is a hunger for such programmes and parents feel let down by major broadcasters in this regard.
With little resources Adamu and his team set about to help change the status quo. It is the first of its kind to come from Nigeria. The pilot episode of Bino and Fino was released in 2010. A 24 minute TV feature of the show which is available on DVD has been broadcast in the UK, South Africa, online for free and at festivals to a growing fan base of kids and parents. Here is what fans of the show have had to say about it.
A mother had this to say. "Wow, you guys have made my Sunday. I am loving Bino and Fino, and Mr Adamu Waziri. I was just talking to my hubby and his sisters, and my cousins about the lack of black/African cartoons and positive educational stuff for the kids. Not to mention the lack of black characters on Disney. We need to put positive educational dolls, movies, shows for our kids because many do watch a lot of TV with mom and dad working."
Another mother had this to say. "I am soo happy I found this. My daughter is such an outgoing young lady who loves to explore and missed the opportunity go visit Africa. Now she can get connected and find fun ways to connect. She, at 22, still dresses herself in garments and patterns that represent your fine heritage. God bless your efforts. I will enlist this as part of my classroom soon. Thanks"
A father had this to say. 'Our daughter, 19 months old, just counted to 10 in Yoruba while watching Bino and Fino!'
The Bino and Fino Nigerian educational cartoon was created to give parents looking for genuine African educational content for their children to watch more of a choice. A full season is currently under production in Nigeria by EVCL and is set to be released at the end of 2013.
Link to website: www.binoandfino.com
Comments
comments