German-Cameroon Veteran Football Game at the Borussia Hockeypark.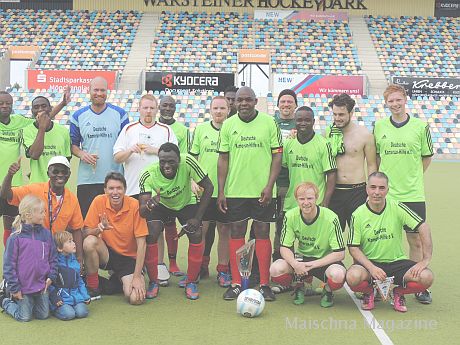 What happens when a professional football career is over? This is a question professional football players have to answer at the peak of their careers. I got to meet Mr. Yombi Alphonse  at the Borussia Hockeypark on  the 1st of June during a friendly match between, German and Cameroonian veterans which he organised. Mr Alphonse Yombi is an ex-professional Cameroonian football player who was member of the national team at the 1990 world cup in Italy. He has also played with Canon Yaounde, Stade Laval (France), Vejle BK (Danemark) and Iraklis Thessaloniki  in Griece.  In 1998 he laid the foundation of the "Deutsche Kamerun-Hilfe e.V in Cameroon and continued with the same association in Germany in the year 2002. This association helps Cameroonians to set-up small and medium scale businesses with start-up material or machinery and or with vocational and technical training. Since the creation of this asscociation more than 300 Cameroonians have profited from his kind heartedness. Together with his wife Mrs. Heike Yombi, they use their contacts to get material goods from companies and private persons in Germany and ship them to Cameroon.
The friendly match was quite an interesting one. Cameroon won the trophy with 6 goals to 1 against Germany. Amongst the veterans you could pick out one or two famous ex-football stars from Cameroon for example Mr. Dagobert Mouzong who is now DFB trainer and lives in Frankfurt. He told me in an interview how much fun it is to play with ex-colleagues on friendly bases. At that point in time I was asking myself what the results of the later match will be. See picture gallery for more highlights.
Comments
comments