Back to the Roots with José Hendo in Kampala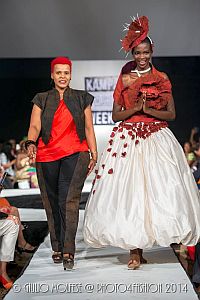 The 15th of November saw one of Uganda's home-grown talents, international sustainable fashion designer Jose Hendo return for its inaugural Kampala Fashion Week.
Taking the audience on the creative journey within her career she showcased a selection from four of her collection starting from her prolific RESONANCE Collection (purely made from barkcloth) from which the follow up three collections (Contact Deep, Infinity and Spontaneous) are defused.
Hendo says: "It has been very dear to my heart to showcase at my home country. I was excited to be invited for the biggest fashion event on Kampala's calendar."
This was the first of a series of events in Kampala for José Hendo. She held her  next event in collaboration with Serendip Concept at the Uganda Museum in Kampala last Thursday 20th of November 2014 at 13:30. "Bark 2 The Roots – B2TR" was conceived as a concept by José Hendo with Winnie Sseruma a journalist, activist and founder of the BAGCI charity 18 months ago. Having it realised this year has been a dream come true for both of them. Facilitated by Serendip.Concept it will feature a collective of Ugandan artists working with Uganda's UNESCO-certified cultural heritage material: barkcloth.
By Melanie Jones/PR for Maischna Magazine
Visit our picture gallery for more pictures.
Comments
comments