Feminine Elegance Et Voila For You, An Inspiration From The New Vlisco Collection.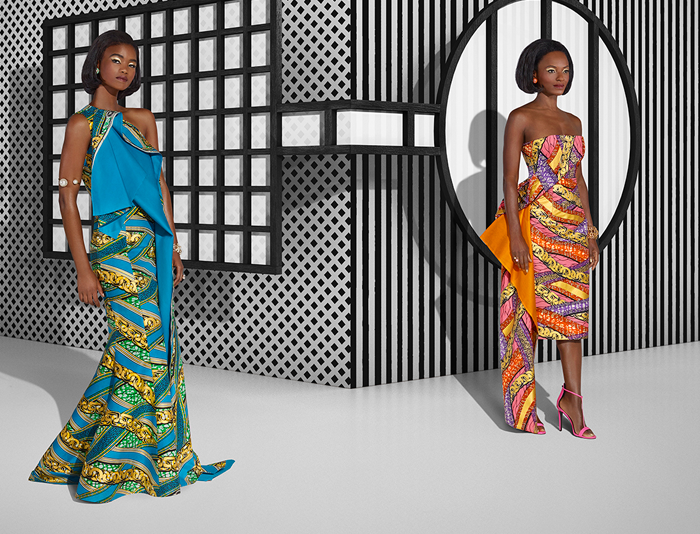 Real Dutch Wax  has been part of the West and Central African Fashion history for decades. Generations of  mothers and daugthers have worn wax with pride on special occassions. Year after year Vlisco has been on the move, re-designing styles and prints.
This month, Vlisco launched a new collection in celebration of mothers and daughters who have been  are still its source of inspiration in designing anew. Vlisco's archive offers plenty of inspiration for the next generation of design stories and personal style.  Quite a tale of wisdom and beauty passed on through generations and ages. This season's collection VOILÀ FOR YOU is outspoken, vibrant, with new motifs, re-imagined classics to inspire unique personal styles that will make you stand out at any event.
Fantastic Fusion: For playful and professional designs. (By Vlisco.com)

FUNK AND FLARE: A waist-defining peplum top and sleek pair of trousers. A confident look  crafted in different colour variations of the same fabric design for just the right balance of funk and flare. (Photo credit: Vlisco.com)
SWEET SENSATION: Slip into a mix of dazzling geometrics and fresh florals. Though the wrap blouse and flounce pencil skirt use different designs, they share the same juicy colour palette. Accessorize with dashes of coral red for a sophisticated finish. (By Vlisco.com)
MARVELLOUS MATCH: Matching tops and bottoms are not only on trend – they're super-versatile in your wardrobe. Combine a wrap blouse with a flared skirt in the same tropical-toned fabric, and you've got yourself a gorgeous dress! (By Vlisco.com)
COLOURFUL CLASSICS: With an elegant peplum top you can never go wrong. Especially when you team it with a classic pencil skirt. To shake it up a little, choose a daring colour and print combination. Pair with co-ordinating shoes and a necklace and you're good to go. (By Vlisco.com)
STYLE SAVVY: Use colour as a common thread to string different designs together into one look. This outfit focuses on vibrant red, but you can choose your own favourite hue. Polish off the look with a chic neck scarf in your feature colour. (By Vlisco.com)
CATCH THE WAVE: Ready to shine at the office? You'll look brilliant in this bright and feminine wrap blouse and pencil skirt ensemble. They're made with two vivid colour variations of the same flattering wave design. (Vlisco.com)
Feminie Elegance by Vlisco.com
Comments
comments