How to be a Successful Entrepreneur in the Online Publishing Space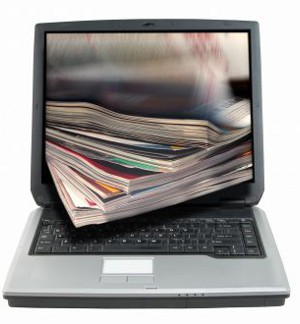 "Thanks to the Internet, anyone can be a publisher," says Tom Drake, the founder of Canadian Finance Blog, and an online entrepreneur and owner or partner of more than 40 websites, many of which generate significant revenue. "However, just being able to put your thoughts out there isn't enough to create a successful business and good income."
As Drake points out, becoming a successful entrepreneur in the online publishing space requires a little bit more than just setting up shop on a website. A successful entrepreneur in the publishing space needs a plan, and the persistence to carry it out.
Cultivate Partnerships
One of the reasons Drake has been so successful is that he cultivates strategic partnerships. "I like to look for good writers to work with on sites," he says. "They do what they do best, and I can focus on building and monetizing websites."
Among the writers Drake works with is Miranda Marquit. Marquit is an author and the founder of Planting Money Seeds. She has written for a number of online and offline publications and she is one of the most prolific writers in the online personal finance space. "I didn't want to start my own site originally," she says. Marquit was happy writing for others, and building a business around freelancing. "But Tom convinced me that we could partner on a site, and that together, with each of us doing what we do best, we could be successful."
Now, Marquit partners with Drake on three websites. Marquit and Drake also engage in other collaborations with fellow entrepreneurs, including a live weekly web show. The right partnerships can allow you to focus on your strengths, and the right partner can complement your weaknesses. Successful entrepreneurship in the online publishing space, as in any area, requires that you understand your capabilities, and that you work with the right people to balance your shortcomings.
Engage Online
Success in online publishing requires that you engage online. This seems fairly obvious, but many would-be online entrepreneurs don't work to build their online relationships. It's easy to see other online publishers as competitors, rather than potential collaborators. Online engagement, with other publishers as well as with your audience, is essential.
In order to engage with your audience, you need to share your authentic self. "I've been trying to bring my voice into more of my writing," says Marquit. "I find it helps me connect with readers. They want to know that you're coming from a place that's real."
Online engagement also sometimes includes reaching out to find new audiences. Many successful online entrepreneurs in the publishing space provide guest posts to other websites in order to increase visibility. Others make it a point to appear in other publishers' podcasts, and share others' work on social media. "It's a lot of work to get yourself out there," says Drake, "but you need to engage online as much as possible to drive more traffic to your site. Other than constant tweaks and optimization, more traffic is how you'll improve your revenue."
Plus, he continues, real online engagement with other publishers and with your audience means that you can rely less on the whims of Google and instead create a community more likely to continue to visit your site and to share your content with others. "I'm not saying you can ignore Google and search isn't important," Drake says, "but you do need to diversify and look for alternative ways to drive traffic to your sites."
Collaborations with other online publishers can also help you raise your profile. Marquit is involved in an investing podcast with three other bloggers, the Money Tree Investing Podcast, and she and Drake are also both involved with the Money Mastermind Show, a web show conducted via Google Hangouts. "These projects allow me to make connections and build more bridges in the online publishing space," says Marquit. "The more places I can be, the better my business will grow."
Create a Plan
Too often, entrepreneurs rush in without a plan. Because it's so easy to start an online publishing business, it's easy to overlook the business planning. Online publishing doesn't look like the traditional businesses of the past. However, having a plan is important. As an entrepreneur, it's important to understand your goals, and acknowledge what you want your business to look like. You also need to map out a course of action so you know what steps to follow to achieve success.
"From researching keywords to paying for reliable hosting, you need a plan for your publishing business," says Drake. "Miranda and I often touch base about our plan. I give her the results of keyword searches, and she makes it a point to talk about some of the big-picture things we need to focus on."
It can be helpful to sit down and write a traditional business plan for your online publishing business so that you are forced to think about what steps you should take, from finding a good web designer to setting up payroll and accounting. Your business plan should also include a marketing plan. Create a marketing plan that includes social media efforts, as well as other efforts to raise your profile. Understand your target demographic, and create a plan that can help you engage in a way that reaches them.
"At first, I didn't think of my writing as a business, and I didn't see myself as an entrepreneur," says Marquit. "However, I've come to see that I'm a legitimate business person. While I don't have a traditional business, adapting some of those more traditional business practices has really enhanced my bottom line."
Persistence
Finally, both Drake and Marquit cite persistence as one of the most important traits of a successful entrepreneur in the online publishing space.
"Any entrepreneur has to be willing to work, even when you're not feeling it," says Drake. "You need that discipline to keep going, even when you're tired. That site needs to be redesigned, or you might need to have a late-night meeting."
Marquit agrees. "There are times that I don't feel like writing, but that's the time I need to dig down deep and move forward."
She also points out that it's important to remember that, for most entrepreneurs, success doesn't come overnight. The persistence to keep going is necessary. "Most websites don't make money in the first few months," Marquit says. "It can take years to really pick up steam and start making real money. If you don't have the persistence to stick with it, especially as online publishing becomes more competitive, you'll never be a success."
Read more: http://www.inc.com/murray-newlands/how-to-be-a-successful-entrepreneur-in-the-online-publishing-space.html#ixzz3FjM7ow1d
Comments
comments