Shop the Look: SLPENDEUR Inspired by Vlisco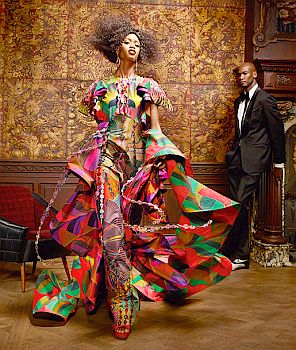 With Vlisco's new season's collection, everything has to pale into insignificance next to you. Just like the glamorous movie divas of yesteryear, whether you're going to a ball, a party or just 
a romantic meal, you will dazzle in the limelight. Memorable fashion requires brave, bold moves and so this season Vlisco cuts into their fabrics to create embellishments in their styles and transform them into individual pieces of jewellery. 
They also created extra SPLENDEUR with embroidery, sequins and crystals. Inspiration from everywhere! For Thanks giving, they hope wearers of their print willl find the perfect gift for that special someone. Naturally, that special someone could be ME or YOU! Shop Vlisco to get the LOOK!
More pictures from the VLISCO SLPENDEUR LOOK BOOK HERE.
With Vlisco, colour is your friend and with this outfit you can use it to full effect. Craft a high waist pencil skirt with handy pockets and combine it a sartorially bold top to make a truly unforgettable statement.
Comments
comments