Alexandra Tamele Showcases at the Black Fashion Week Paris.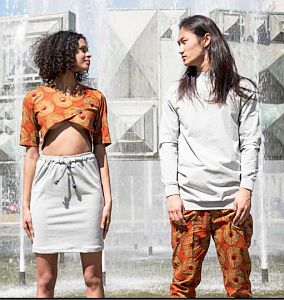 Alexandra Tamele, is a talented"street style" designer born and raised in Berlin. Her weaving of western styles into African fabrics reflects her African heritage, also the source of her inspiration.
A new breath of fresh air has been breezing through the fashion world as more and more designers use the afro-western fusion style to reflect the diasporic side of their heritage. In fact, you've got to be really good to surprise in this field nowadays. Indeed, Tamele's label carries a charismatic, distinctive, innovative character with promise for an international breakthrough.
The label takes liberties and hits the nerve of our Zeitgeist.
"Ma Chagana" is the label of her first collection which made its debut at the last Black Fashion Week in Paris. The collection comprises of t-Shirts, trousers, jackets, sweaters, skirts and dresses. Each item is easily combined with whatever items you may have hanging in your wardrobe. Her innovative reinterpretation of the classic t-shirt or pair of trousers ensures no item is a typical run-of-the-mill piece. This exciting debut is a beautiful realization of a dream which mixes contemporary ideas with classic cuts. We certainly hope to see more Alexandre Tamele on the catwalks of the work.
Picture source from the  African Fashion Day Berlin Page on FB.
Comments
comments