Akon ft. D'Banj -In FROSH Production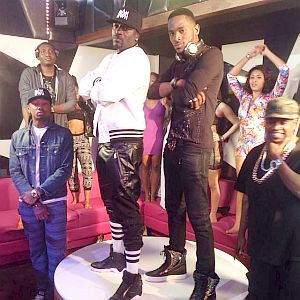 Another Nigerian-Atlanta conection by music superstars, D'Banj and Akon who recently announced that they are working on a massive collaboration.
Both Artists took time off the set of the new video they are working on, to show-off  pictures on their Instagram pages. Throwing around words like Frosh and Feeling a Nigga, which is believed to be the two singles they are working on. "FROSH" and "FEELIN A NIGGA" Akon captioned the first photo he shared while D'Banj posted a similar picture in the same location and commented, "BEST of BOTH N****S now that's #Frosh and she said she Feeling the Nigga.
 I was made to understand that only uneducated gangstar wannabe rappers use such words. Looking forward to those hits guys!
Comments
comments