Did you know about The Bold & Beautiful Camer Ladies (BBCL) Meet up Event?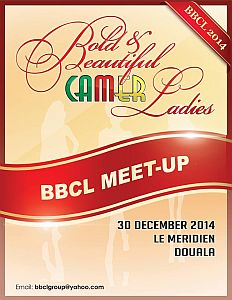 PRESS RELEASE FOR BBCL MEET UP EVENT

Date: 30th December 2014
Venue:  Le Méridien, 35 Avenue des Cocotiers, Douala Cameroon.
A group of young Cameroonian women will leveraging the power of social networking to forge meaningful business connections this Christmas. BBCL is a Facebook group comprising members in professions ranging from finance to marketing and public relations. Members also blog on various issues including: fashion, lifestyle, hair and beauty, entertainment, as well as business and technology. They source stories from Cameroon and beyond. The first BBCL Meet Up/networking event is scheduled to take place on Tuesday 30th Decmber 2014 at Le Méridien Hotel in Douala, Cameroon. "We are excited about being able to create an opportunity that promotes networking between professionals, entrepreneurs, bloggers and the media," explained Project Manager, Yefon Mainsah. "The BBCL Meet-Up is a great way to exchange ideas and create awareness about the importance of blogging and social media engagement to Cameroonian women," she added. Sponsors and vendors will get a chance to showcase their products and services at a mini exhibition.
Prospective sponsors can choose from 3 Gold, Silver and Bronze packages. Vendors will be showcased on event promo material, sell their products and services and have them reviewed by bloggers.
NOTES TO EDITORS:  Bold & Beautiful Camer Ladies (BBCL) was established with the intention of connecting Cameroonian women promote their businesses on social media. The group currently has over 400 members located around the world and a potential reach of over 600,000.
Programme outline:
Meet & Greet/Networking
Mini Fair/Exhibition of products and services
Presentations & Panel discussions
 Networking Breaks & exchange of business cards
Fashion Show
Guest Surprise Artists
GENERAL AND MEDIA ENQUIRIES
Email: bbclgroup@yahoo.com
Comments
comments