Baking through life: my passion is my business.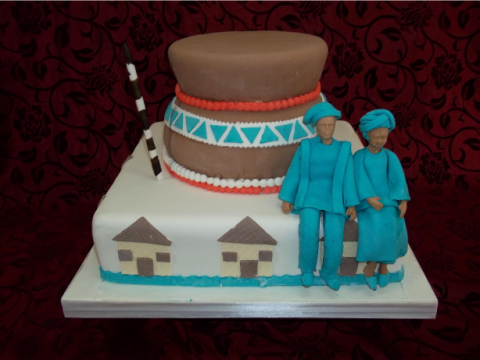 Some people have break through careers as singers, actors or authors. Others … well, choose to follow their passion for the sweet stuff and go into baking. Maischna got in touch with one such entreprenuer, Yvonne L. Nforchu. Yvonne is a go-getter in Cameroon's economic capital of Douala who's passion for baking saw her pass up top job offers to hatch her business idea into a successful enterprise. The result of lots of hard work and practice?  "Yvonne Couture Cakes".
Yvonne Couture Cakes makes classy confections for all your events. That is her slogan and that is how she works. Here, Yvonne shares her personal tale of how she is baking her way through life. Be inspired!
When did you turn your passion in to a business?
2009 . I had baked for a lot of friends before including doing a wedding cake for a very close friend in 2002. When I got to Cameroon in September of 2007, all I had in mind was get a job! Back then I was a student with the ACCA program, more than halfway gone, and I had actually embarked on an internship with a Finance institution in Bamenda. There was just so much drama and bureaucracy going on and a lot of politicking. I decided to move to Douala and soon I had people calling me to ask if I could do their cakes. Once, I almost forgot someone's order so I got a log book to make sure it wouldn't happen again. I also started keeping records of all my expenditure on cakes. At some point, I sat down to analyse my records and realised that I was making quite some money! And I also realised that I could make a lot more if I increased my client base. The rest, as they say, is history.
Coming from Cameroon I know many parents prefer it if their child takes the traditional path to become a doctor, lawyer, journalist. How did your parents react to your news about following your gift and passion and going into baking? Was your family supportive from the beginning?
Seriously, they almost went ballistic. They really did not like it at all, felt like I was throwing away everything I had learnt as well as my brains. Great thing is I had learned how to search for answers within myself and not to listen to other people telling me how I should live my life. So I asked myself what I really wanted to do. I absolutely love making cakes, I have a flair for business and I am good at planning and organizing myself. So I just focused on building the business for about to two years, buying equipment and so on. Then I went home with my records and financial statements, explained to them how it all worked. Now I have their full support.
When did you bake your first cake ever?
Oh I remember my very first cake! I must have been about eight years old. I started reading from a really early age and came across a book at home titled, "Cook and Hostess", illustrated with photographs. I took the book into the kitchen while everyone else was watching a movie, measured out the ingredients like the book said and bingo, I baked a cake! I was hooked from that day. I can tell you I was a real pain. Flour at home was never safe when I was around. That must have been almost twenty-eight years ago.

What makes Yvonne Couture Cakes stand out considering all the competition out there?
The very word, "couture" means you get a cake that is especially created for you. Our business is about the client and not about us. Each cake is uniquely designed, no mass production and all that.
When a client contacts us, we ask them if they have a theme or we suggest one. Our cakes are designed to match the theme of your party. For instance, if a child loves Spiderman, then the party accessories can be based on the Spiderman theme and we create a Spiderman cake as well.   Basically, all you have to do is imagine it and we will create it for you.
We visited your website http://www.couturecakes-cm.com and what we saw was breath taking. A mixture of baking skills and art. Where does all your inspiration come from?
I am blessed in the sense that both sides of my brain are dominant. My analytical mind enables me to run the business side of things and my creative mind keeps the ideas coming. I am a born artist. I love to paint, draw and write and so thinking up designs and concepts comes naturally to me.
Inspiration could come from so many things. The sense of who a person is, perhaps they like beauty, fashion etc. It could come from a story, a painting, a cartoon, a movie -anything.
What is your message to  those with great business ideas but lack of motivation?
I would say get a vision book. This is where you can write down your ideas, as crazy as they may sound. Writing down things gives you a sense of clarity. And let go of fear! If you don't dare, you will never know if you can be good at something. Do not let other people instill their fears in you or discourage you. And even if you fail the first time, failure will teach you what your strengths are and show you areas where you need to improve.
Comments
comments