Gillian Mckeith sparkles in label Olay Sookie on Fashions Finest runway during London Fashion Week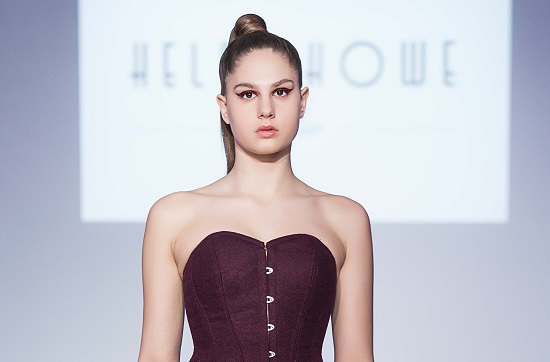 Saturday 17th of februar 2018, Fashion Finest kicked off day one opening its doors to its showrown featuring Nasra Mamoun jewellery, VRS, Hoh Pabissi, Yeagob, Ziaz, Beckshire beauty, ChicP, Alpaca smaka wearable Arts Collective, SNA Fur, ELvira Graham knitwear, Saraden Designs, Timna Weber, Sheree Robinson knitwear, Elaine Mackenzie.
On the first runway show of the day, British Helen Howe Atelier timelessly classic tailored ready to wear pieces with a modern and occasionally opulent twist left viewers excited.
Sustainable label Alpaca Samka showcased their luxury collection of garments, hand-made from alpaca fibre on the catwalk and the showroom with their accessories on the showroom. Visitors wear smitten with their ready to wear of relaxed cool dressy casuals warm natural hues like that of Khaki and sage green.

Following on were Tijana T who intrigued with striking flowing to structured dresses. Ujjwala Bhadu collection brought warmth, fun and a sense of sunshine to the catwalk with her bright and bold collection. Exciting unique and unusual dresses came from the Wearable Art Collective. Croation designer Olya Sookie closed the show surprising guests with two familiar faces on the catwalk; TV personality Gillian McKeith stunned in a playful teal-coloured dress and her ethereal looking daughter Afton McKeith who confidently strut down the runway in a cream bodysuit. She says of her collection:
"My love for dance and mysticism has inspired me to create a conceptual fashion collection for an alternative group of people with extreme self-expression. Name Nephilim has contributed to aesthetic significance of the collection itself. Although Nephilim has more meanings, I have chosen for its representation of Gods offspring, half angels, and half warriors."
In the afternoon Jenny Holloway, CEO of Fashion Enter/ Fashion Capital delivered a presentation on what exactly an ethical factory is in Fashions Finest series of Let's Talk Fashion Business industry talks. Touching on themes as sustainability, company structure, compliance and quality control the floor then was opened up for a Q & A.
Spanish label Yeagob opened up the last show for Fashions Finest with an exciting menswear collection. Santiago Rico says of his brand: "Yeagob can be described as classic male tailoring with a modern twist. Adjectives such as sobriety, elegance, minimalism, and cleanliness define my brand."
Clean cuts and fresh patterns were introduced by US label VRS who addressed the bold cosmopolitan woman with her collection.
Modest womenswear brand Ziaz proved that modest mustn't mean boring and can translate seemingly within the western world.
Mena Odi Collection convinced with a muted palette of patterns of ready to wear womenswear.
Beresta sent their models in floating in, in feminine and flirty dresses with a French flair that can the wearer through everyday occasions from the coffee shop to an evening dinner without being over or undresses.
Excited gasped were heard at the entrance of Caroline Perino's collection. Unconventional, colourful and expressive; every single piece enticed and mesmerised with its skillful amalgation of colours and textiles.
Flowing floor-sweeping evening dresses infused with Asian esthetics were on the runway by Voga Atelier.
The second day will commence today with runway shows at 2pm and amongst the designers featured is Gillian McKeith's daughters with her first steps into fashion design launching a T-shirt collection in aid of the World Youth Organisation followed Fashions Finest Industry Talk 'Let's Talk Fashion Business'. at 7:30pm the starstudded Britain's Top Designer Award competition will be held with a  panel of industry judges like celebrity photographer Nicky Johnston (BNTM), stylist Nicky-Hambleton-Jones (10 years younger channel 4), fashion expert Bernard Connolly(BNTM), presenter Lola Royle and hosted by TV & Radio presenter Laura Naylor (Radio2 UAE).
Comments
comments