Website launch and more Afropolitan Fashion at the African Fashion Day Berlin last Week.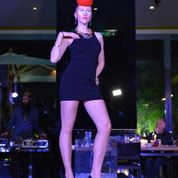 Africa Fashion Day Berlin celebrated its one-year anniversary on Friday the 17th of January 2014 at the Mani Restaurant, Torstrasse 136, Berlin 10119, Germany.
Guests experienced a surprise to their night with Dancer Mwenda performing her mesmerizing choreography "South Afro Fusion".
Founder of Apya Productions and the Africa Fashion Day Berlin Beatrace Oola welcomed guests to this intimate and exclusive dining experience. Amongst dinners were selectively invited press, Ambassadors as well as film and music industries figures such as actress Sheri Hagen (http://www.imdb.com/name/nm0353452/) and music producer Joe Chialo.
Guests enjoyed a three course menu followed by a fashion presentation musically accompanied by Bamba Nazar which included an audio visual tribute to Nelson Mandela.
TV presenter Johanna Princess von Sachsen-Coburg compered the evening.
Jewellery designer Kim Riedel from Bahamas impressed with her collection "Kim Riedel for the World of Dolly Martin", with pieces made from materials such as Plexiglas, wood, metal and silicon alongside her collection of silver jewellery.
Namibian Designer Nikola Conradie charmed with her elegant signature of comfortable luxury wear and a collection dominated by blue and white hues.
Africa Fashion Day Berlin presented it's first: an exciting menswear line. Guinea-Bissau-born designer Braima Sori Bra, aka BSB, enthused audiences with a vibrant interpretation of the suit. Influenced by the eras from the 20ies to the 70ies his collection included exciting materials and brilliant cuts. Described by Vogue UK as one to watch, Sarah Ama Duah collection exuded a strong sense of identity and clarity. Her deconstructed and reassembled collection made from vintage cardigans and neoprene touched on the theme of sustainability with colours drawn from a palette of whites, cream, beige but also royal blue, rose and yellow.
In addition Africa Fashion Day Berlin launched its onlineshop UnseenPieces. http://www.unseenpieces.com is an online shop with a selection of limited exclusive collections by young international designers for the discerning shopper.
Africa has developed a booming fashion landscape with new fashion capitals such as Cape Town, Lagos, Dakar and Accra. Africa Fashion Day Berlin introduces the pan-African design scene to Berlin. Creating exclusive events with international flair whilst celebrating afropolitan fashion designers.
The first platform of its kind in Germany, Africa Fashion Day Berlin is an exciting and pioneering new platform for designers of the African Diaspora. We introduce modern, cosmopolitan fashion inspired by the African aesthetics as well as global trends.
By Melanie Jones.
Comments
comments