AFDB 2015 Ponders the New Global "African" Aesthetic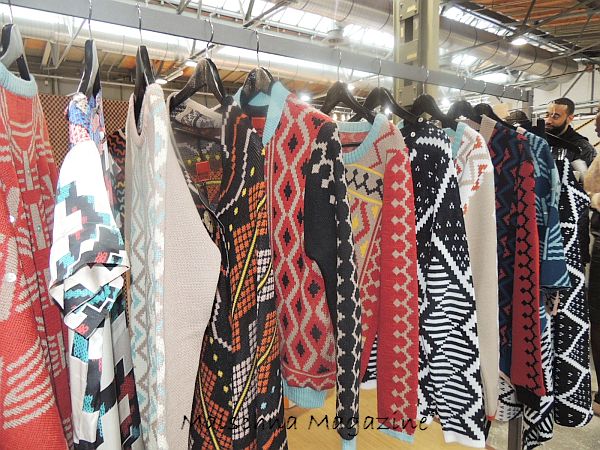 This year's Africa Fashion Day Berlin (AFDB) was all about "ethnic" fashion in the global market. Unlike the landmark runway shows we had become accustomed to in the past, AFDB took place against the backdrop of Berlin's PREMIUM International Fashion Trade Show.
A panel discussion in Hall 7 of the exhibition featured fashion designers Bernie Seb of De La Sébure, Alexandre Tamele, Nana K. Brenu of Studio1891 and Laduma Ngxokolo's Maxhosa by Laduna. The panellists voiced their take on African fashion in the global market, like Nana of 1891 and originally from Ghana who does not see himself as an "African designer" but simply as a fashion designer. Laduma Ngxokolo on his part said that "breaking through the international fashion industry still remains a challenge."
One thing remains clear though and that's the fact that most African designers have to be flexible in their designs so as to respond to the European market. As a potential buyer  noted on the same panel, using African fabrics to make winter jackets sounds like a great idea for example, but in practice, delivery in bulk would be expected. So while African, or African-inspired fashion looks colourful and beautiful to the eye of the beholder, merchandising globally is still a big challenge for many of its designers. Incorporating wax and other "ethnic" prints into some of the creations we now see on international runways is the new "exotic" in-thing. However, the big unanswered question remains how to move more "traditional" African clothing – or for that matter, clothing inspired, designed and produced on the continent as well as by designers in the diaspora – from niche production to global marketing levels.
Spotted at this season's event, marketing her book Anleitung zum Schwarz sein, was TV journalist Anne Chebu. You can purchase the book online at www.unrast-
verlag.de.
Also present was Jacqueline Shaw, author of Fashion Africa. She talked about her experiences with African designers and her perspective on African fashion as an industry that is slowly gaining recognition but is yet to be well integrated in the international fashion industry.
The CEO of the PREMIUM exhibitions Nobert Tillmann also passed by to show his gratitude to the AFDB designers and thanked Ms Beatrace Oola for putting Africa on the map of the Berlin Fashion Week and Exhibitions once again.
Enjoy some pictures from the exhibition.
Comments
comments